6 Quick Snack Ideas That Are Healthy
CLIENTS I HAVE worked with who have made big changes to their appearance regularly return to their relationship with food and re-evaluate how they are managing their lifestyle.
We should all know by now that you can't out-train a poor diet and when your primary goal is to look better, drop body fat and become healthier, what you eat is the determining factor to lasting success.
The key checklist should be:
Quit the junk food
Reduce and limit your sugar/caffeine intake as much as possible
Focus on more quality food/meals throughout your day with an 80/20 approach
Drink more water
The snacks mentioned below can include a large amount of calories so if your goal is to lose weight you need to be aware of the numbers you actually need.
Just because a product is 'healthy' doesn't necessarily mean it's good for your goal.
Once you have the basics mastered you need to have the right snacks that will keep you ticking over steadily.
Having the right snacks on hand throughout the day is essential as it can determine how you approach your next main meal.
Everyone doesn't need to check their numbers using calculators at the start but eventually there will come a point where your progress has stalled and you need to know what is going in and tracking your food and knowing your TDEE (total daily energy expenditure) will make a big difference.
Most of the time I see people not getting enough protein on a daily basis, they have an up-and-down relationship with carbohydrates, and they are getting their portion sizes wrong.
A lot of people tend to eat relatively well from Monday-Thursday yet once Friday hits, that goes out the window for the weekend.
A good solution to not falling off the bandwagon is preparing your snacks in advance for the week ahead and having them ready for when you get a craving.
Here are my top six snack ideas:
1) Chocolate paleo energy bars
I generally make these every Sunday and this batch can do me for a full week. All the ingredients and the simple method for making them can be found in the link below.
http://www.davidlastfitness.ie/posts/the-famous-paleo-bar-recipe
2) Vanilla and chocolate protein balls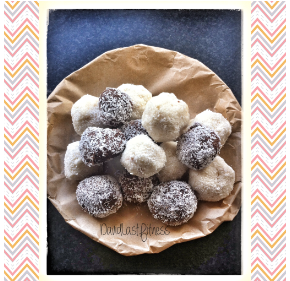 These are a super, little snack which contain almost 10g of protein per serving. They are easy to make and they taste amazing. Ingredients and the recipe are linked below.
http://www.davidlastfitness.ie/posts/chocolate-and-vanilla-protein-balls-recipe
3) Sliced apple with nut butter
This is a very easy snack to make and is generally my go-to when there is nothing left in the house. Cut one apple into slices and add a smudge of nut butter on each slice for a tasty treat. You can substitute the apple with some rice cakes too. I generally stick with almond or cashew butter for this recipe and I'm a fan of the Meridian brand. Just don't go to town on the tub.
4) Protein bars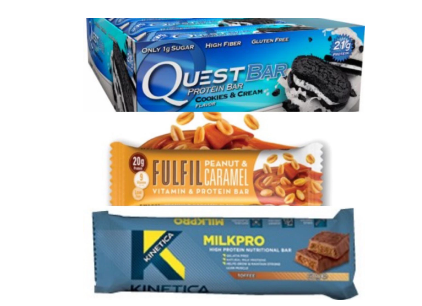 I like to use Quest bars, Kinetica or the latest Irish brand to hit the market, Fulfil. These generally have good quality protein, a decent amount of good fat and are not full of a lot of the rubbish some of their competitors' products can be.
I'm a big fan of the cookies and cream offering by Quest and the peanut and caramel Fulfil bar. Just don't make the common mistake of chomping away on these daily thinking they are OK for you, especially if you're not doing enough exercise or you're already exceeding your daily caloric intake.
Time and time again I see people buying these bars or protein supplements in the hope it will solve their bingeing habits.
Remember, quit the junk food, eat better quality meals throughout your day, along with getting some exercise in, and I can't see the problem with bringing these bars into your diet now and again.
5) Dried fruit, nuts, seeds, dark chocolate, yoghurt mix
Having a bag of trail mix of all of the above, bar the yoghurt, is a great idea. If you're on the road or sitting at a desk for most of your day, and you haven't prepared your snacks, your healthy options are greatly limited.
Change it up a little and add a handful of a trail mix in with some Greek yoghurt, I like the Glenisk stuff, add a bit of whey protein and you've got yourself a good, healthy snack. Acti-Snack and Wyldsson are two other companies who produce some great snacks for when you're on the go.
6) Energy smoothie
I'm also a huge fan of smoothies. Having a good balance of fruit, veg, healthy fat and a source of protein is a great snack idea.
I use my NutriBullet most days and generally go with a mixture of almond milk, whey or pea-based protein, some nut butter or coconut oil/avocado, a handful of fruit (blueberries, strawberries, or a banana), and a handful of veg (broccoli/kale). It might sound pretty off-putting but when blended together it can look like the smoothie below which tastes delicious.
Feel free to share it with someone who could benefit from this information. Have fun snacking!
CHOOSE YOUR GOAL
SHRED, SCULPT OR BOOTY